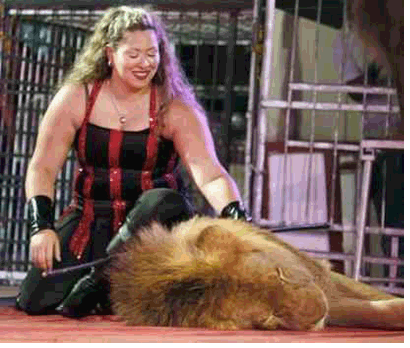 The Egyptian National Circus opened its doors in 1966 on the Nile banks of Agouza. To this day, the circus puts on two shows a day, six days a week. There are three circus tents: one is permanently in Agouza, while the other two tents tour around Alexandria, the Suez Canal and sometimes even abroad.
Starting 1984, the employees were given the maintenance responsibilities of the Circus – they were the ones expected to feed the animals, buy their own costumes, and maintain the equipment.
Animals in the Circus
There are a number of animals in the Egyptian National Circus: lions, tigers, crocodiles, donkeys, pigeons, dogs, monkeys, baboons, an elephant, horses, giraffes, bears, to name but a few. Often, different species "perform" together: dogs and pigeons star in a routine together; one of the circus acts involves two people going into a cage with 10 lions, a donkey, a dog and a monkey: with plans to add a snake and a crocodile.
Circus Life
Circus life for animals is comprised of frequent travel, restricted movements, poor living conditions, loud noises. Wild animals are also forced to perform acts that are unnatural to them: tigers do not jump through hoops of fire in the wild; a donkey and a crocodile would not be expected to get along. Furthermore, animals are being bred in captivity – there are no financial means with which to care for these animals.
The lions and tigers are mal-nourished – they are fed sheep skin. The animals are often drugged to keep them calm and compliant; they are also beaten into submission with wooden sticks (seen as discipline), and are subjected to unspeakable physical and emotional abuse.
Basic understanding and education in regards to animal behavior and psychology are not standard requirements for these circus employees, and the animals suffer unspeakable cruelty at the hands of untrained and unprofessional "trainers".

Pictured here: Luba el Helw of the Egyptian National Circus